Heavy-Duty Diesel Engines: Trucks Construction Equipment
Air Quality Impacts
Diesel trucks and buses have served transportation and freight needs very well for over 40 years because of their durability, reliability and relative efficiency. Since 1970, with the focus on air pollution and the setting of national ambient air quality standards, heavy-duty diesel engines have become less harmful for the environment. Engine manufacturers have totally redesigned their products to dramatically reduce air emissions. Despite this progress, the air pollution from diesel trucks and buses is still a health concern and contributes to continuing air quality problems. Visible exhaust (black "smoke") from older diesel engines and those in a poor state of repair is an issue for communities and citizens throughout USA.
Air Emissions from Heavy-Duty Diesel Vehicles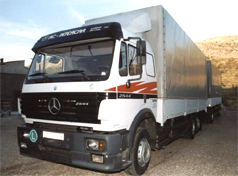 Heavy-duty diesel engines - trucks and buses - release unburned hydrocarbons, carbon monoxide (CO), sulfur oxides, nitrogen oxides (NOx), particulate matter, and other toxic compounds. Although diesel trucks and buses account for only a small amount of hydrocarbon emissions and carbon monoxide emissions, they do contribute large amounts of NOx and particulates. According to the U.S. Environmental Protection Agency, heavy-duty trucks and buses today account for about one-third of NOx emissions and one-quarter of particulate emissions from all highway cars and trucks, even though they only comprise 2% of the total number of vehicles on the roadways.
The good news is truck and bus engines manufactured today emit less NOx and particulate matter than those manufactured fifteen years ago. For comparison, it would take approximately 8 of today's cleaner trucks and buses to equal the NOx and particulate matter emissions from one vehicle manufactured in 1987. The bad news is that many older trucks are still on the road because of their durability and, overall, there are more trucks on the road now than ever before. As a result, emissions from heavy-duty diesel engines continue to be a significant factor in ongoing efforts to meet healthy air quality standards for many areas in the country, including Northeast Tri-State Area. More stringent controls on new diesel trucks and buses are needed to further reduce emissions from new engines. Equally important are practices to insure that diesel engines currently in use are maintained and operated at the lowest emission levels possible and do not emit excess smoke. Minimizing smoke emissions from on-road vehicles improves air quality and enhances the image of the trucking industry.
Health and Environmental Impacts from Trucks, Buses & Construction Equipment

The most significant emissions from heavy-duty diesel vehicles are NOx and particulate matter, both of which contribute to serious public health problems in the United States. NOx emissions from diesel vehicles play a major role in ground-level ozone formation. Ground-level ozone, more commonly known as "smog," continues to be a significant air quality problem throughout the Northeast, reaching unhealthy levels in ten times during the summer of 2001.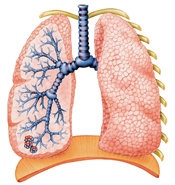 Ozone is a lung and respiratory irritant that is most problematic in the summer months. It causes a range of health problems related to breathing, including chest pain, coughing, and shortness of breath.
Diesel particulate matter (soot) has been classified by the California Air Resources Board as a probable human carcinogen. Fine particulate matter is easily inhaled and deposited deep in the lungs. Particulate matter has been linked to premature death, increased emergency room visits, and increased respiratory symptoms and disease. With both ozone and particulates, children and the elderly are most at risk. In addition, ozone, NOx, and particulate matter adversely affect the environment in various ways, including crop damage, acid rain, and visibility impairment.
Steps to Reduce Emissions from Trucks, Buses & Construction Equipment: New Federal Standards
EPA issued new rules in 2000 for regulation of air pollution from newly manufactured trucks and buses. These rules will require more stringent emissions standards for trucks and buses beginning with 2004 model vehicles, with even more stringent standards for model year 2007 vehicles. According to EPA, the new emissions standards established in these rules will result in particulate matter and NOx emission levels that are 90 percent and 95 percent below today's levels, respectively. The reductions will be achieved through the use of pollution control devices (e.g. catalytic converters) and diesel fuel requirements for low sulfur content. Low sulfur fuel is needed because sulfur in fuel damages the emission control devices used to reduce NOx emissions during fuel combustion. The overall clean air impact of these rules will be dramatic when fully implemented. EPA estimates that this program will provide annual emission reductions equivalent to removing the pollution from more than 90 percent (or about 13 million) of today's trucks and buses with 20 million off -road construction equipment.
Steps to Reduce Emissions from On-Road Trucks and Buses: Smoke Testing Programs and the Importance of Proper Maintenance
While new emissions standards and improved maintenance practices have reduced smoke from the majority of diesel trucks and buses, a percentage of vehicles in a poor state of repair continue to emit high levels of smoke. Excess smoke from a truck or bus means that the engine is not operating efficiently and is in need of maintenance. Dark smoke is a sign that the vehicle is wasting fuel and producing excess emissions. From the owner's perspective, this means less fuel economy, more expensive maintenance, and shorter engine life. From the public's perspective, smoking trucks are a significant and growing health concern.
In an effort to reduce smoke and excess emissions from heavy-duty diesel vehicles on the road, many states, including New York, New Jersey, Connecticut have smoke opacity testing programs. Smoke opacity is the degree to which smoke blocks out light. When there is no visible smoke, the opacity will measure 0%. Very dark smoke may reach 100% opacity, meaning no light is able to pass through the smoke. The purpose of smoke opacity testing programs is to identify diesel engines that emit excess amounts of air pollution and to foster compliance with air quality regulations pertaining to mobile source emissions.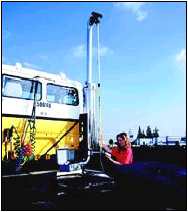 Depending on the age of the vehicle, a vehicle may fail the test if the opacity is greater than the established opacity standard for that model year. Fines may be issued to owners/operators of trucks that fail the opacity test.
All truck and bus owners can help prevent excessive exhaust emissions and black smoke by insuring that their trucks and buses are well maintained and operated properly. Paying close attention to a few simple maintenance tips and driving techniques can eliminate significant amounts of air pollution, increase operating efficiency, and save money - all at the same time!
For more information on heavy-duty diesel vehicles and other programs in your state are region to reduce air pollution from mobile sources, contact the Air Resources Division at 516-767-5138 or visit the following websites: